Item#: SH-7000/8000S (soft 50), SH-7000/8000F (firm 60)
Colors: Blue, Red, Yellow, White, Black, Shocking Pink, Celeste Blue
Fits the following Shimano brackets: Ultegra R8000, 105 R7000
Material: PS-TPE (Elastomer)
Weight: 43 grams (pair)
Made in Japan

BLACK
BLUE
CELESTE
PINK
RED
WHITE
YELLOW
INSIDE
Item#: SH-9150/8050S (soft 50), SH-9150/8050F (firm 60)
Colors: MATTE WHITE (BLACK, NAVY, BLUE, RED, NEON PINK), BLUE , RED , YELLOW , WHITE , SHOCKING GREEN , BLACK , SHOCKING PINK , SHOCKING ORANGE , SHOCKING YELLOW
Fits the following Shimano brackets: DURA ACE R9150, Ultegra R8050
Material: PS-TPE (Elastomer)
Weight: 43 grams (pair)
Made in Japan

MATTE WHITE
BLACK
MATTE WHITE
BLUE
MATTE WHITE
NAVY
MATTE WHITE
NEON PINK
MATTE WHITE
RED
RED
NEON PINK
NEON ORANGE
YELLOW
NEON YELLOW
NEON GREEN
BLUE
WHITE
BLAK
-Item#: SH-6800S (soft 50), SH-6800F (firm 60)
-Colors: Blue, Red, Yellow, White, Shocking Green, Shocking Pink,
Celeste Blue, Black, Shocking Orange
-Fits the following Shimano brackets: Ultegra ST-6800, 105 ST-5800,
Tiagra ST-4700
-Material: PS-TPE (Elastomer)
-Weight: 40 grams (pair)
-Made in Japan

BLACK
BLUE
CELESTE BLUE
SHOKING PINK
SHOKING GREEN
SHOKING ORANGE
RED
WHITE
YELLOW
SHOCKING YELLOW
BLUE/YELLOW
two-ton
BLUE/PINK
two-ton
BLUE/GREEN
two-ton
For the ultimate aero-bike that minimizes aerodynamic drag and enables optimum power transmission. I set my boundaries to the machine and it enables me to try bikes that allow extreme aero positions for a longer ride. SHAKES is the creator of effortless steering by just the touch of a hand, and has now developed a revolutionary Integration Design Grip,"Pistola".

Data from cycle computers tell only one side of the story, it cannot replace the mind and body. A perfect machine and extensive training does not guarantee results.

Inspired by the natural human spirit to drive further toward success; with that very efficacy embedded interface, "Pistola" has arrived.

・Integrated guidance ridge and flared taper, ergonomically shaped for enhanced performance.
・Easy to trim for seamless custom size adjustment for four stages of length.
・Select density according to the riding environment (Soft for 50 degrees & Firm for 60 degrees).
・IOMIX compound for maximum comfort and decreased fatigue.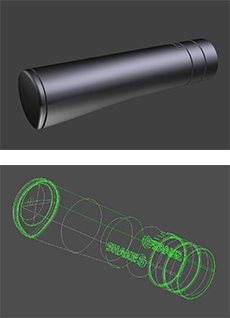 - Product name: SHAKES pistola [Shakespeptola]
- Product compatibility: Bullhorn and DH bar exclusive grip. Some parts can not be installed depending on handle shape
- Color: Black / red, Black / neon-yellow, Black / pink, Black / blue, White / black, White / orange, White / blue, White / red
- Accessories: Dedicated double-sided adhesive sheet (2 sheets)
- Price: 3500 yen + tax
- Material: High density resin (PS - TPE) Weight: Pair 43 g Tolerance: 1 g
- Place of Origin: made in japan
- How to install: Wrap a dedicated double-sided sheet around the handle, wipe the parts cleaner etc. on the surface, inside the grip, Please insert slowly before volatilization

Black/pink
Black/red
Black/blue
Black/neon-yellow
White/red
White/orange
White/blue
White/black